WARREN FUCKING ELLIS.
No, I'm not talking about the musician, who plays in the Dirty Three and Grinderman. Don't get me wrong, that guy's awesome and all, but he'll always be the OTHER Warren Ellis in my mind. THE Warren Ellis is the writer. Of graphic novels, mostly, which might be why some of you who read books regularly don't know who I'm talking about. But I don't like the idea of calling someone who writes graphic novels... all right, COMIC BOOKS, a "comic book writer". As if I need to differentiate them from REAL writers, or something. They ARE real writers. Warren Ellis is a real writer. An awesome one, in fact.
But he may need an introduction to many of you, since (other than Alan Moore and Neil Gaiman) most writers of the graphic form are not widely known anywhere outside of the (unfortunately) rather well-insulated comic book culture. So, very well: his original claim to fame came from the launch of several brilliantly provocative, originally conceived comic book series during the late 90s, the best of which, for my money, was
Transmetropolitan
. Imagine, if you will, Spider Jerusalem, a Hunter S. Thompson avatar born maybe three-quarters of a century later than his real-life counterpart. Having retired at the height of his notoriety to seclusion at his compound in the woods, he is called back after the better part of a decade due to some unfulfilled commitments (the wages for which he'd already long since spent). He returns to city journalism and finds a dystopian cyberpunk near future not too dissimilar to that of Neal Stephenson's
Snow Crash
. That's the framework for
Transmetropolitan
. Ellis proceeded to build brilliantly upon it, filling around 100 or so issues with Spider Jerusalem's rants against the corruption and decadence of this alternate universe--most of which parallel that of our own world to an uncomfortable extent.
More recently, Ellis has been pushing the envelope of what is possible in comic writing and publishing with his Image title
Fell
, which retails for $2 in a $3-plus comic world, and which features a 16-page self-contained tale in each issue, thereby allowing even the most casual, poverty-stricken comic fans and curious onlookers an opportunity to check out a comic without making some huge commitment to the backlog of a series or even an entire publishing company (as so many other comics require one to do). What's more,
Fell
is almost entirely free of ads, and instead fills its few remaining pages with detailed discussions by Ellis of his writing process, and the details and nuances of the stories he tells. I've always been a sucker for this kind of thing, which might be why
Fell
persuaded me to check out numerous other Ellis writings. These days, I'm slowly accumulating a complete collection of trade paperback reprints of
Transmetropolitan
, as well as being on the pull list for every title he writes, from the mainstream Marvel-continuity title
The Thunderbolts
to DC/Wildstorm's fascinating espionage title
Desolation Jones
... and
Fell
, of course.
I even checked out, at the recommendation of horror writer and fellow comic fan Brian Keene, Ellis's book-length collection of comic-related columns that originally appeared on the
Comic Book Resources website
, entitled
Come In Alone
. Based on
Transmetropolitan
, I already had my suspicions that Ellis was the type of guy who, if asked (or maybe even if NOT asked), could offer lengthy extemporaneous discourses on what exactly was wrong with the world, and what could be done to change it. I learned from
Come In Alone
that, at least where the comic book world was concerned, this was absolutely true. Ellis struck me as a creative, non-linear thinker with tons of expertise in many different areas from which to draw. He seemed like the type of guy who could make a connection between two seemingly-unrelated facts from completely different fields of study and, in so doing, gain insight into issues that would suddenly appear in a completely different light just based on an offhand statement. People who can think and talk in this manner are my favorite type of people, and I strive to be one of them myself. Not only did Ellis navigate this particular evaluative approach to the world with ease, he did it with such charismatic fervor that it made me want to take up arms and follow him into battle. I certainly did a fair bit of re-evaluation when I finished
Come In Alone
, where my own comic-reading habits were concerned. For a couple of weeks I even found myself wondering why I was wasting my time with so many super-hero titles (I did drop a few, but careful reconsideration led me to realize that I was really only purchasing the ones I considered well-written, for the most part).
I figured Ellis probably had more things that he felt strongly about than the state of the comic industry, and caught broad hints in this direction, chiefly from
Transmetropolitan
and
Fell
. But it wasn't until last week, when three new Ellis titles all hit my subscription box at the same time, that I really felt like I was getting the full perspective on where ol' Warren's head is at these days.
First: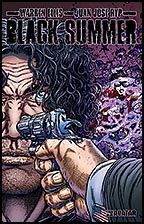 OK, technically Black Summer began a month ago, with a $2 preview issue numbered 0. And the sample of art from this title that I will reprint below actually comes from issue 0, page [#]. But I'm accustomed to seeing #1 as the beginning, so who can blame me for feeling like things are only REALLY starting now? Also, issue #1 is twice as mindblowing as #0. Brief plot summary so far: former American superhero team Seven Guns have been disbanded since not long after 9/11 (which they failed to prevent). An explosion killed one of their number, and another was murdered by corrupt police. One team member, John Horus, has remained in the good graces of the US government, while another, Tom Noir, pretty much just sits at home and drinks these days, having lost a leg in the aforementioned explosion. At the beginning of issue #0, Tom is watching a presidential address on CNN as it is interrupted by John Horus, who kills the president just before he is set to go on, then goes on in his place. Horus explains that, to his mind, the US government has become incurably corrupt, and... well, here, I'll let him tell it.
Crazy, huh? I figure that's all the setup you need on this one. It's obvious what Ellis is trying to say about America, the UK, and the general state of our pampered first-world culture with this one. All that remains is to see how crazy the whole thing gets before it's over. And it will be over soon--this is a 7-issue monthly limited series. For the record, it is published by Avatar, which is either a completely new company or a company who've had a much lower profile up until now. They appear to be following the Image template to a certain extent. There's almost no advertising in their comics, and what little there is comes after the end of each story and is generally for other Avatar products. Also, they seem to be going after A-list talent--Garth Ennis and Mark Millar, among others, have upcoming or just-starting Avatar series, and Warren Ellis has his own imprint called Apparat.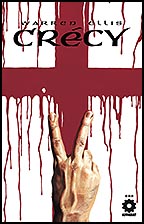 It's Apparat who brings us the second of these Warren Ellis prodcuts, a short original graphic novel called
Crecy
. This book narrates the battle that took place between English and French forces in the French town for which the book is named, in the summer of 1346. According to the back cover, this was England's finest battle of all time, and changed military strategy for hundreds of years. Interesting? Well, honestly, no, it doesn't sound like it, not to me. I really only picked it up because I pick up everything with Warren Ellis's name on it. But, it turns out, I needn't have worried. The story of the battle is narrated to us by a random English longbow carrier, one of the infantry grunts of Edward III's army. He narrates it with full knowledge of we the readers' great remove from the time period, and does not spare us the colorful language and cheeky prejudices of an English peasant from the time period. As a result, what could have been a stultifying treatise on warfare becomes a light, joyous romp through one of the more obscure tangents of Warren Ellis's wide-ranging intellectual interest. I mean, how can you not love a comic that produces gems like this?
Seriously, pretty much every page is like that. Pick this up--it's a real treat.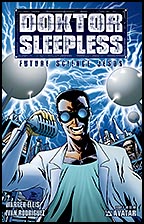 The final product Ellis has unleashed for the week (by the way, all of this stuff came out LAST week--I didn't pick up my comics until the day before the next batch of new comics were due in. So if anyone's paying enough attention to be confused, that's why I seem to be a week behind) is a much tougher nut to crack than either of the previous two titles.
Doktor Sleepless
is obviously every bit as serious in nature as
Black Summer
, and takes place in as dystopian a near-future as did the much more lighthearted
Transmetropolitan
. But as far as plot goes... I must confess that I'm somewhat clueless at this point. Which is not to say that I'm not enthralled--I am. The brief glimpses of the world in which this comic takes place, and the characters which inhabit that world, that we are given in issue #1, are enough to pique my interest. No, check that, they are enough to leave me fascinated, even transfixed. Apparently there is
a website
devoted to this title already, a website that Ellis has set up in the form of a wiki, and already contributed background information to. I haven't checked it out myself, but I will be clicking on that link as soon as I finish posting this entry. Like
Fell
,
Doktor Sleepless
ends with a section Ellis calls "Back Matter", but unlike
Fell
, that of
Sleepless
will apparently focus less on the writing process and more on the fleshing out of concepts that will be introduced in the main plot of the book. Those concepts are amorphous at best right now, but they both intrigue and vaguely frighten me, as this page should illustrate:
One thing on that page that I can explain--instant messenger operates through contact lenses. Another--Heavenside is the city where this all takes place. And a possible third--I'm assuming the reference to Eschaton is to the fictional game David Foster Wallace invented within the pages of his novel
Infinite Jest
. There are references elsewhere in the title to Beckett's "Waiting For Godot" and the occultist Colin Wilson, as well as multiple Biblical references--and this is just the first issue. It seems Ellis has big plans for this particular series, and I for one am along for the ride for as long as it takes. You'd be well advised to jump on yourself, before the bandwagon gets so crowded that back issues start skyrocketing in value.
Labels: Comics